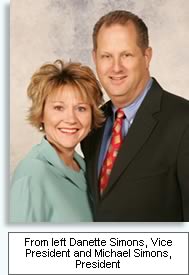 Our Leadership and Staff
Great leadership and a staff comprised of honest, talented individuals is crucial to the success of any enterprise. Michael and Danette Simons' leadership drives the vision and culture of ServiceMaster by Blaze – both operationally, and among our employees in the field.
Our continued growth and expansion is guided by our organization's dedication to employee education and certification, and the absolute belief that nothing less than top quality, in all aspects of the business, is acceptable for our customers.
ServiceMaster by Blaze Staff
Michael Simons, President
Danette Simons, Vice President
Mike Novak, Operations Manager
Allen Nylin, Branch Manager
Beth Kasten-Daggett, Administrative Manager
Michelle Troutwine, Content Cleaning Manager
Juan Vargas, Water Restoration Field Supervisor
James Wardrip, Lead Carpet Cleaning Technician