Professional Carpet & Upholstery Care
Keep your Carpets, Floors and Upholstery Looking Great!
You've made an investment in your floor-coverings and furniture. Let us help you protect that investment with our professional services! You and your family will enjoy a healthier environment when your carpets, floors and upholstery are refreshingly clean.
Here's how we care for your carpets
Know the facts: No other item in your office or home absorbs more wear and tear on a daily basis than your carpet, and no other item can affect the appearance of your office or home like your carpet can.
Carpets should be professionally cleaned every six months to a year. Not only does ServiceMaster by Blaze have the equipment and expertise to fully remove dirt and detergent, our professionals can help you eliminate moisture from carpet. People using rented equipment often leave the carpet too wet, and they do not fully remove the detergent.
The ServiceMaster Clean exclusive carpet cleaning process includes:
Preliminary inspection of your carpets to determine the best cleaning method
Pre-treating spots and stains
Pre-applying the cleaning shampoo to loosen ground-in soil
Rinsing your carpet using clear hot water
Post-treating any residual stains
Grooming carpet for efficient drying and uniform appearance
Placing pads under furniture legs to protect the carpet while drying
Performing final inspection with you present to ensure you're completely satisfied
Keep your upholstered furniture looking its best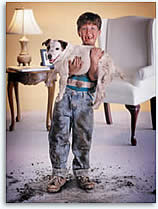 At home or at work, fabric furnishings can get heavy use and show soil and dirt quickly. ServiceMaster by Blaze professionals are experts at selecting the correct cleaning system for particular fabric types and soil conditions.
For all upholstery cleaning, our technicians use specially designed products, equipment and methods every step of the way, from initial vacuuming and spot treatment to shampooing, rinsing and water extraction to washing and polishing frames.
In the office, modular systems and furniture get the same care we devote to your sofas and chairs at home. ServiceMaster by Blaze provides a process that ensures the removal of soil while never risking damage to your investment.
ServiceMaster by Blaze makes hard floors shine
With advanced products and extensive field experience, ServiceMaster Clean has developed superior programs and regimens to care for a variety of floor surfaces including marble, vinyl, ceramic, quarry tile and wood. The result? Enhanced floor protection, slip resistance and appearance.
For marble, ServiceMaster Clean has a proven scientific process designed to restore slightly scratched marble and keep it meeting your expectations for a long time.
Real wood flooring can be expensive, but caring for it doesn't have to be. ServiceMaster by Blaze believes your wood floors should always look new, and we work to see that they do by using our specially formulated wood care products.
The benefits of our proprietary approach to floor care include:
Superior clean and shine
Reduced wear on floor surfaces
No burn marks
Faster and more efficient regular cleaning
Dust-free burnishing
Enhanced slip resistance
Fewer strippings required